Originally published in Taste & Flair June 2013
Michael Diacono visited Marsala as a guest of Donnafugata, which has a winery there, and has worked on recipes for the food shown here, which was prepared by chief Nino Chirco of the well- known Ristorante i Bucanieri.
Red Mullet Arancini
500g Arborio rice
1 large onion, peeled and very finely chopped
extra virgin olive oil
1 litre fish stock, if possible made with the red mullet heads and bones
3 sachets saffron
500g red mullet, cleaned and filleted
30g raisins
30g pine nuts
50g wild fennel fronds (one must venture out in the country to get these but well worth it)
30g pistachio nuts, chopped
salt and pepper
flour
at least 2 eggs
breadcrumbs
1. Heat some olive oil in a large pot and add half the amount of chopped onion. Fry till translucent than add the fish stock
2. Bring to the boil and add 2 sachets of saffron. Add the rice and cook, stirring very often till all the liquid is absorbed
3. Line a large tray with baking paper and spread the rice out to cool
4. Heat a little olive oil and add the remaining chopped onion. Cook gently till softened then add the raisins, pine nuts and chopped pistachios. Stir well
5. Add the finely chopped fen- nel and 1 sachet of saffron. Stir-fry for 2 minutes then add the filleted fish. Season it with salt and pepper
6. Cook for 10 minutes on low heat, mixing occasionally to break up the fish, but do not mash. Leave to cool
7. Stir the rice into the fish mixture and mix gently till amalgamated
8. Prepare three dishes with flour, beaten egg and breadcrumbs
9. With dampened hands shape the rice into balls and roll in the flour, then the eggs and finally in the breadcrumbs. Place in the fridge to set
10. They are best when deep fried but may also be roasted in a hot oven for about 20 minutes.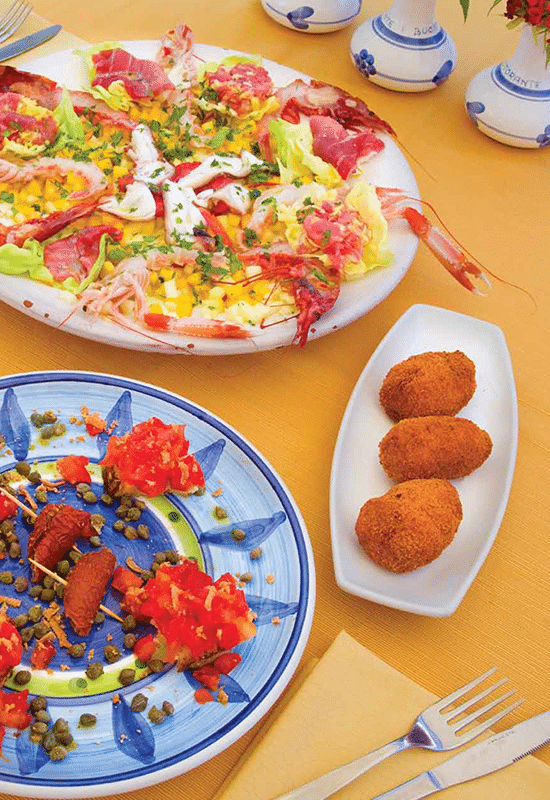 Crostini with fresh tomatoes and bottarga
1. Peel some plum tomatoes, then chop and season well with salt and pepper. Mix with a little extra virgin olive oil
2. Toast or grill some sliced Maltese bread. Rub with garlic then top with the tomato mix. Before serving grate some bottarga all over.
Stuffed sun-dried tomatoes
1. Prepare the filling by mixing some fresh breadcrumbs with chopped capers, garlic, chopped parsley, peperoncino and some lemon juice
2. Bind with a very little olive oil
3. Fill the dried tomatoes with the mixture and roll up
4. Secure with toothpicks.
Only the freshest of shellfish and fish are to be used in this dish, which is served raw. We were served langostini, prawns, thinly sliced octopus and thinly cut fresh tuna. The langostini and prawns are simply halved down the middle. No lemon or olive oil was added. Serve these on a bed of chopped mango and peaches and garnish with some lettuce and chopped parsley.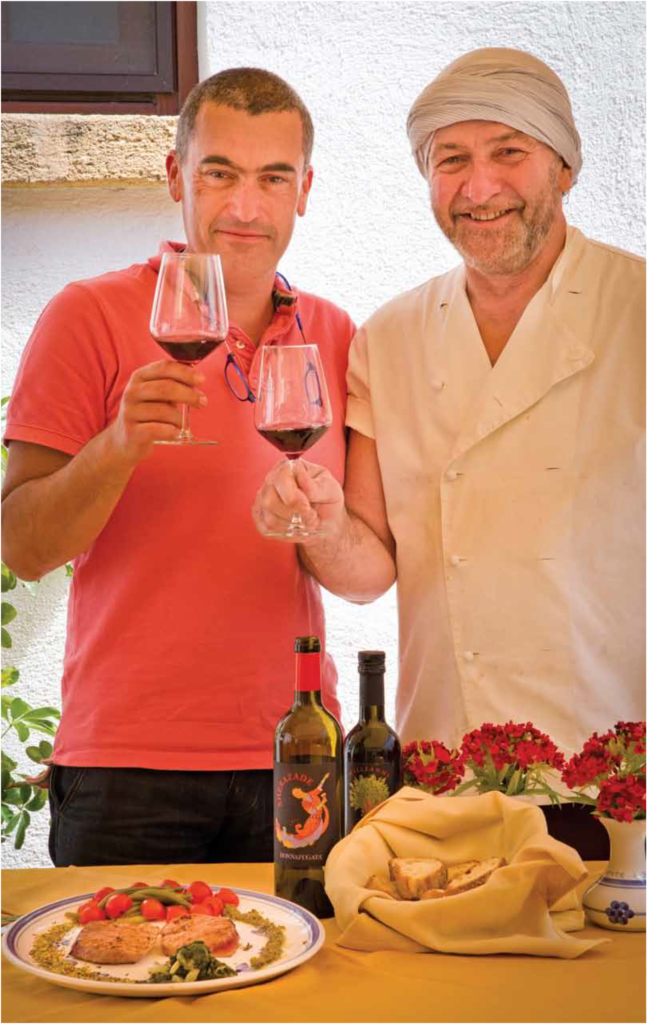 Grilled tuna with salsa verde and chopped pistachio
1. Prepare the salsa verde by blitzing a good handful of parsley with a tablespoon of capers, some pep- per and a squeeze of lemon. Add just enough extra virgin olive oil to make a loose paste
2. Bake some pistachios for a few minutes then cool. Chop
3. Grill the tuna seasoned with salt only for a minute on each side. Do not over cook
4. Serve the tuna with some salsa verde and the chopped pistachios.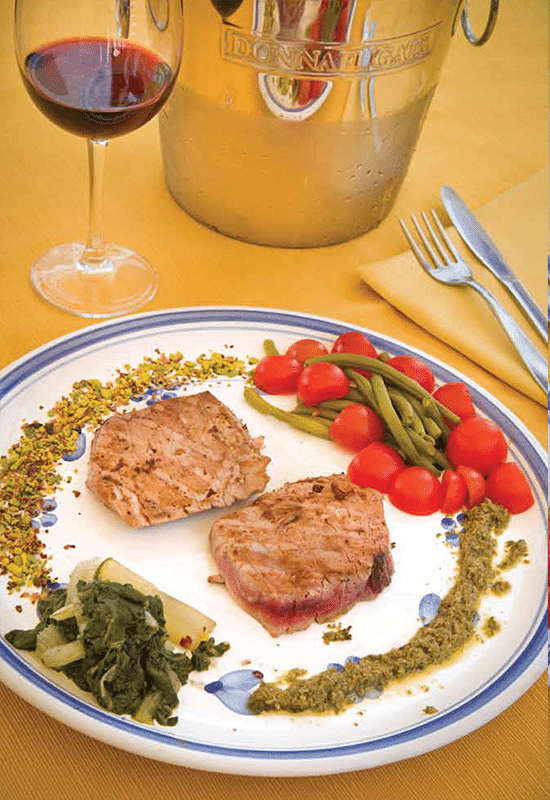 Grilled octopus
Remember that Malta-caught octopus needs to be frozen before using it, to break down the fibres.
1. To prepare, place the frozen octopus into a large pot and cover with water. Place on the heat and bring to the boil
2. Turn the heat down, and simmer it gently for about 45 minutes to 1 hour till tender. Make sure that the water does not dry out
3. When done, turn off heat and leave to cool completely
4. Drain, then remove beaks and slice the meat
5. Heat up the barbecue or grill till very hot then simply grill the octopus slices for a few minutes
6. Serve this with diced cherry tomatoes and a drizzle of very good olive oil.